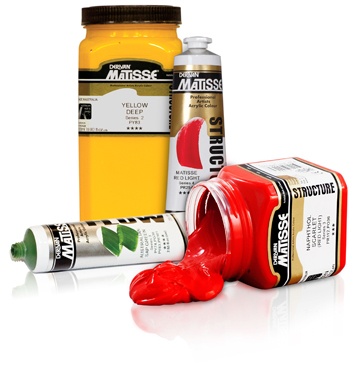 Lightfastness. Opacity. Permanency.

Only the finest quality pigments and ingredients are selected for the Matisse range of premium artist acrylic colours. All have the highest lightfastness rating of ASTM I or II. All Matisse paints are fully compatible with the range of Matisse Medium working together to create a highly versatile painting system for all artists.

The intense, vibrant colours of the Structure and Flow Formula paints cover the full colour spectrum, including several uniquely Australian colours. Matisse Structure Formula is a rich impasto paint most like oil paint. Matisse Structure Formula paint is ideal for application with a brush or palette knife for striking textured effects or combined with the range of Matisse Mediums for exceptional flexibility of application and finish. Matisse Flow Formula is a low viscosity acrylic paint that glides from the brush. Matisse Flow Formula paint is ideal for mural work, canvas painting, geometrics, hard edge, photo realism and fine detailed painting – in fact any art that requires intense smooth colours.
Matisse Acrylic Paints are vegan friendly (except Ivory Black)